Refuge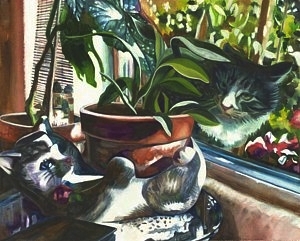 Double Standard
Morning
Snuggled
First Flight
New Beginnings
Watering the Onions
Magical Woods
Girl in the City
Pink Sunset
Scarlet Crocosmia
The Walrus
Catbird Seat
Sunday Morning
Another Day
Father and Son in Morning Mist
Baby in the Birdbath
Making Mischief
Unititled
New Day
Waiting for Baby
Little Girl in Pink
Wings of Dawn
Shadow of His Wings
Refuge
Small child wading with mother and babies (cygnets) nearby.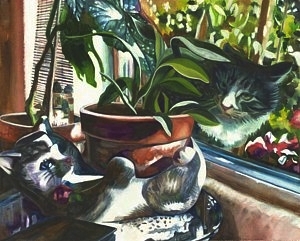 Double Standard
A feral cat looks into the window at his ceramic counterpart.
Morning
Watercolors painting of little girl brushing her teeth
Snuggled
First Flight
Watercolor painting of little girl pretending to be be bird and flying off of bed.
New Beginnings
Watering the Onions
Little girl watering the onions in the garden.
Magical Woods
Baby in nest of bird feather or arms of large bird being watched over by red cardinal.
Girl in the City
Young woman walking down wharf in San Francisco.
Pink Sunset
Brother and sister holding hands and looking at view over park at sunset.
Scarlet Crocosmia
Scarlet Crocosmia, also known as Montbretia and Tritonia, planted for decoration in some gardens is actually considered to be an invasive weed in some regions of the world.
The Walrus
Little girl peering through glass at walrus in San Francisco Aquarium on the wharf.
Catbird Seat
Toddler playing dress-up as bird sitting in large basket (nest) while white cat looks on.
Sunday Morning
Marine praying at Easter service in Iraq.
Another Day
Marines standing on Humvee at sunset in Iraq.
Father and Son in Morning Mist
Baby in the Birdbath
Making Mischief
Unititled
New Day
Waiting for Baby
Little Girl in Pink
Wings of Dawn
Shadow of His Wings
1
2
3
4
5
6
7
8
9
10
11
12
13
14
15
16
17
18
19
20
21
22
23
24
25
26
27
·
·
·
·
·
·
·
·
·
·
·
·
·
·
·
·
·
·
·
·
·
·
·
·
·
·
·